CONTEST (February 1st to July 31st, 2016)

Enter for your chance to win up to $12,000 in mortgage payments!
Royal LePage is proud to team up with Desjardins and National Bank to help you buy your new property!
From February 1 to July 31, 2016, the Royal LePage 1 year Mortgage-Free Contest will offer you a chance to win one year without mortgage payments̶ up to $12,000. Two prizes will be awarded in total – one from Desjardins and one from National Bank!
How to enter?
When you do business with a Royal LePage broker in Quebec*, as part of your property search and when you secure an approved mortgage** from a Desjardins or National Bank representative during the Contest period – February 1 to July 31, 2016 – you are automatically eligible for a chance to win! No entry form is required.
Ask your Royal LePage broker about it today! 
 
Prizes 
Each month, eligible entrants will be recorded and one Desjardins client finalist and one National Bank client finalist will be drawn from the entrants and become eligible to win one of the two prizes. At the end of the Contest, one grand prize winning Desjardins client and one grand prize winning National Bank client will be drawn from the six respective finalists from each financial institution.
Phone: 450.347.7766
Fax: 450.347.0199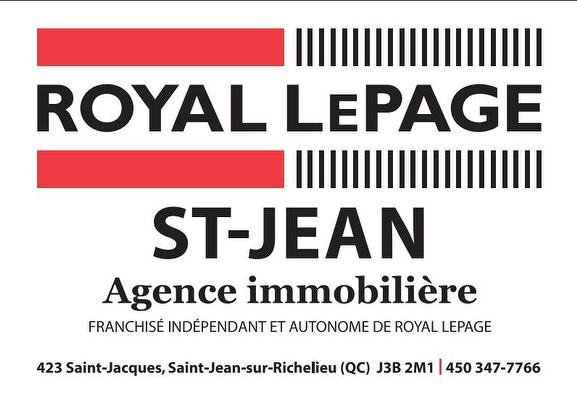 WELCOME TO OUR WEBSITE
Why use an agent?  
When you have decided to buy or sell a home, the services of
ROYAL LEPAGE ST-JEAN
a qualified real estate professional are of utmost importance. 
The ideal sales agent will have a good working knowledge of local real estate market conditions, be prepared to deliver a high standard of service to customers, and have the support of a large real estate company. Most importantly, a good agent will save you time and money.
---
Contact Us
We are here to help with all your real estate needs and questions. Let us know what's on your mind and start a conversation.
Home Valuation
For most people, their house is their single biggest investment. Find out how much your investment is worth with a no-obligation market valuation.
Find a Dream Home
If you are in the market for your "Dream Home" then I would love to help. Simply fill out my Buyer Registration card and I will have suitable new listings emailed to you as soon as they come on the market.
                                     OFFICE HOURS
 
                     ****NEW OFFICE HOURS AS OF OCTOBER 1ST 2015***
      Please take note that every sunday we are closed not only in the summer

                                MONDAY-THURSDAY
                                       9AM - 7 PM

                                           FRIDAY
                                         9AM - 5PM

                                         SATURDAY
                                         10AM - 4 PM
      
                                          SUNDAY
                                         - CLOSED -

                     TO CONTACT A BROKER CALL 450-347-7766
                                     CALL CENTER OPEN 24/7